Join BCID on Thursday, September 18 at 7pm for a Special Presentation:  "The New York City Origins of the Disability Rights Movement" with  Historian Warren Shaw
The disability rights movement is an important branch of the civil 
r
ights revolution of the 1960s and 1970s. This movement is often
overlooked, but it was truly a revolutionary effort. The founders of
that movement began the journey of an entire class of the American
population up out of utter powerlessness.
By fighting to allow the disabled to enter the agora and participate in
mainstream social and political life; by redefining the disabled -- even
to themselves -- as a minority group, the pioneers made the disabled
community, for the first time, both conscious of its own existence and
visible to the able-bodied world. Yet the story of the New York
beginnings of the disability-rights struggle has never been publicly
discussed, anywhere -- until now.
In this hour-long illustrated talk, Warren will describe the earliest
moments of the New York City movement, beginning with the League of the
Physically Handicapped, in the 1930s, and extending up through the
establishment of the Architectural Barriers Committee, the Mayor's
Office for People with Disabilities, Disabled in Action and the
independent living movement. In particular, Warren will discuss
Brooklyn's crucial (and invariably overlooked) contributions to the
movement's leadership and organization, including the Brooklyn Center
for People with Disabilities, and pivotal figures both famous and
forgotten, including Judy Heumann, Marilyn Saviola, and Richard Match.
Space is limited; reserve your seat by September 12, 2014. $5 donation
requested.
For more information or RSVP, or request accommodations, contact BCID
at 718-998-3000. You may also email info@bcid.org with your name, number of people attending and any accommodations needed. BCID is located at 27 Smith St. in downtown Brooklyn.
---
PLEASE MAKE A DONATION TO BCID BEFORE SEPTEMBER 30!

Please support BCID's vision of full access for people with all types of disabilities! A generous donor has agreed to match up to $10,000 in donations made to BCID by September 30, 2014. That means that your donation of $50 is worth $100 to BCID!
Secure donations can be made online using Razoo on our Facebook page, through our website www.bcid.org/donate or you can mail a check to BCID at 27 Smith St., Suite 200, Brooklyn, NY 11201.
---
BCID is Rolling Out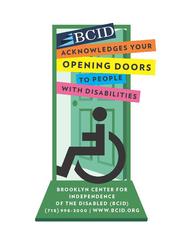 "Opening Doors"
BCID is offering local establishments the opportunity to "invite us in" as part of our Opening Doors campaign. The purpose of the program is to increase the ability of people with disabilities to "get in the door" of Brooklyn businesses and other establishments. 

BCID will be encouraging businesses to become more disability friendly, and recognizing those that do.

 We are looking for volunteers with any type of disability who wish to go out in their communities to talk to businesses about the program and how they can increase their customer base.  We are also looking for suggestions for businesses that are already reaching out to people with disabilities. You can email us at openingdoors@bcid.org. 
---
BCID is hosting a new support group.   
On Wednesdays, through Goodwill Industries, there is a job readiness support group from 10am-noon for consumers with mental illness..  For more information about the group, and to confirm meeting dates and times, call BCID at 718-998-3000.
---
Court in BCID v. Bloomberg  Finds City Discriminated Against
People with Disabilities in Its Emergency Preparations
Last November, a  Federal court ruled that New York City discriminated against people with disabilities by failing to provide them with meaningful access to its emergency preparedness program in several ways.  Among the areas specifically mentioned were evacuation from high rise buildings and transportation for people with disabilities, as well as issues within the shelter system.
     The court's ruling established the city's liability. The parties will have the opportunity to propose and negotiate remedies. If the parties cannot agree, the   court will impose remedies. 
   BCID v. Bloomberg was filed a year before Superstorm Sandy hit New York.  However, Sandy highlighted the issues that advocates had been raising for years.   BCID thanks our attorneys, Disability Rights Advocates, for their tremendous work on behalf of people with disabilities!
 BCID v. Bloomberg has received extensive media coverage across the country.  Some links:
  But the real impact of the case can be seen in educational workshops like "Is Your Plan Good Enough? BCID v Bloomberg and the Future of Emergency Planning," which is being held at the 2014 National Hurricane Conference for emergency planners in April.
---
Hurricane Sandy: For disaster-related resources and updates click on this link
_________________________________________________________________________________________________
For more than 55 years, BCID has empowered people with disabilities in Brooklyn to lead independent lives.  We also work to break down barriers that keep people with disabilities from accessing the same opportunities as other people.
We have a lot going on at BCID.  Besides providing services to individuals, BCID offers many opportunities for people with disabilities to learn skills, get support from others and help make the community more accessible for all people with disabilities.
* Our Barrier Busters program trains volunteers to go out in the community and work with business owners to make their businesses more accessible
* Through the Brooklyn Systems Change Network, people with disabilities can learn advocacy skills and take action on issues that affect our community.
* We have a weekly group where deaf individuals can learn basic computer skills
* Our weekly Support Group offers people with disabilities the opportunity to share their experiences with each other
To find out more, check our calendar page, or contact us.  We look forward to hearing from you soon!
---
 Read the Consumer Rights & Responsibilities and Grievance Procedure